Billing
Claims
Add a header to begin generating the table of contents
Other Sections
Add a header to begin generating the table of contents
List Unblilled Encounters
 Click Billing > click Generate Claims (see reference)
Specify the correct date range
Find Print Option > select the Reprint Unpaid Claims option 
Click Print
Verify Patient Info
Open the patient's summary > click Patient Notes 
Open the Patient Registration Form > click Exit
Click Patient Profile
Verify the details match the registration form
Verify Insurance Info
Open the patient's summary > click Patient Profile
Verify the details match the insurance card
Verify Encounter, Provider, CPTs, & ICD10s
Open the patient's summary >  click Patient Notes 
Open the relevant document > click Exit
Click the related entry below the correct summary section (e.g. Encounter, Diagnosis, CPT, etc.)

Or click the correct summary section title to open that tab in patient timeline window > find the related entry
Or click the Timeline tab to open the patient timeline > find the related entry

Verify the details match the patient note
Create Superbill
Open the patient's summary > click the $ symbol next to the correct encounter to open the Claim Entry window 
Create New Claim
Open the patient's summary > click the $ symbol next to the correct encounter to open the Claim Entry window
Click the Superbill tab > verify the Encounter, Diagnosis and CPT data > click New
Verify each CPT code has a diagnosis pointer, fee and POS (default POS is 11) > click Create Claim 
Click Save
Open/Edit Existing Claim
Open the patient's summary > click the $ symbol next to the correct encounter to open the Claim Entry window (see reference)
Add new data or modify the existing data
Click Save
Remove Claim
Open the patient's summary > click the $ symbol next to the correct encounter to open the Claim Entry window (see reference)
Click the Remove Claim link
Click Yes to confirm
Click the correct entry below the encounter section

Or click the encounter section title to open that tab in patient timeline window > find the relevant entry
Or click the Timeline tab to open the patient timeline > find the relevant entry

Uncheck the Billed box for the removed claim
Print Individual Claim
Open the patient's summary > click the $ symbol next to the correct encounter to open the Claim Entry window (see reference)
Click the Print Claim link
Find Claim Form > select the correct format option > click Print
Print Individual Statement
Open the patient's summary > click the $ symbol next to the correct encounter to open the Claim Entry window
Click the Print Statement link
Select the correct options from the Select Parameter window click Ok
Sending Claims
Add a header to begin generating the table of contents
Print Batch Claims
Click Billing > click Generate Claims (see reference)
Specify the correct date range 
Find Payer > select the correct option
Find Print Option > select Print Pending Claims
Click Print
Print Batch Claims by Insurance
Click Billing > click Generate Claim (see reference)
Specify the correct date range
Find Payer > select the correct option
Find Print Option > select Print Pending Claims
Find InsPlan > select the correct insurance plan
Click the Print button
Reprint Batch Claims
Click Billing > click Generate Claims (see reference)
Specify the correct date range
Find Payer > select the correct option
Find Print Option > select Reprint Pending Claims
Click the Print button
Upload Batch Claims to Clearing House (OfficeAlly)
Find the claim file (OfficeAlly_mmddyyyy.txt) generated by the EMR
Upload the claim file to the clearing house
Check Claims Status (ERA)
Click Billing > click ERA (see reference)
Expand the correct date
Select the correct claim
Posting
Add a header to begin generating the table of contents
Create Batch Posting
Click Batch Posting (see reference)
Click New > choose either Insurance / Patient Payments
Enter the patient's account number

 Or enter the claim number

Verify the correct DOS (date-of-service) is shown

Or find DOS > select the correct date

Find Payment > enter the correct amount
Find Adjustment > enter the correct amount
Click the Post button
Repeat steps 1 – 7 for the next payment
Click Save
Open Batch Posting
Click Batch Posting (see reference)
Click Open
Enter the account number > specify the date range > click Search
Double-click the correct batch posting to open it
Tips
The system will automatically select the DOS after entering the account / claim number. It may not always be correct. (see step 4A)
Each posting will create a new entry in the ledger using the Payment and Adjustment values.
If the Adjustment box is left empty the system will automatically fill in the amount needed to balance the claim.
Use the tab key to move from one box to the next.
Change Claim Format
Add a header to begin generating the table of contents
Print Guide Page
Click Billing > click Edit Print Forma (see reference)
Select the correct form > click the Print Guide Grid button
Click the Print button in the browsers print window
Adjust Claim Format
Click Billing > click Edit Print Format (see reference)
Select the correct form > click Local Printer Adjustment
Follow the instructions to align the claim to the form
Fix Mapping Procedure Errors (OfficeAlly)
Login to OfficeAlly
Find the Rejected queue > check the reason for rejection
Verify the data

If the claim and submission data do match request support
If the claim and submission data do not match reconcile the errors and resubmit
Reference Guide
Add a header to begin generating the table of contents
Generate Claims Window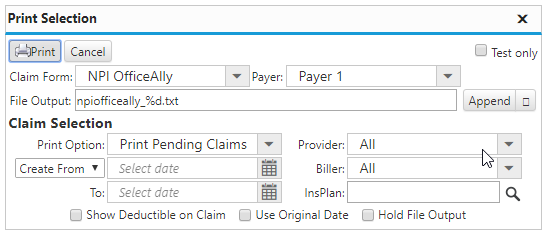 Claim Form: selects claim format option
Payer: selects payer option
Test Only: sweeps claims without affecting the pending status of the claim
File Output: displays the files name
Append: adds the current output to the most recent previous output

Option: selects which of the previous outputs to append the current output

Print Option: selects the print option (e.g. Pending, Unpaid, All claims)
Provider: selects the provider
Create From: selects which date to begin the sweep
To: selects which date to end the sweep
Biller: selects the biller 
InsPlan: enter or search for the insurance provider
Show Deductible on Claim: displays the deductible on the claim
Hold File Output: holds the file output instead of automatically downloading it
Ledger Tab

Add: creates a new ledger entry
Edit: edits the selected region
Save: saves current entries, selections and changes
Cancel: cancels current selections
Delete: deletes the selected entry
Search: searches the ledger's entries
Print: prints the ledger
Preview: displays a print preview of the ledger
Clone: clones the last entries data
Charge entry – Claim Entry Tab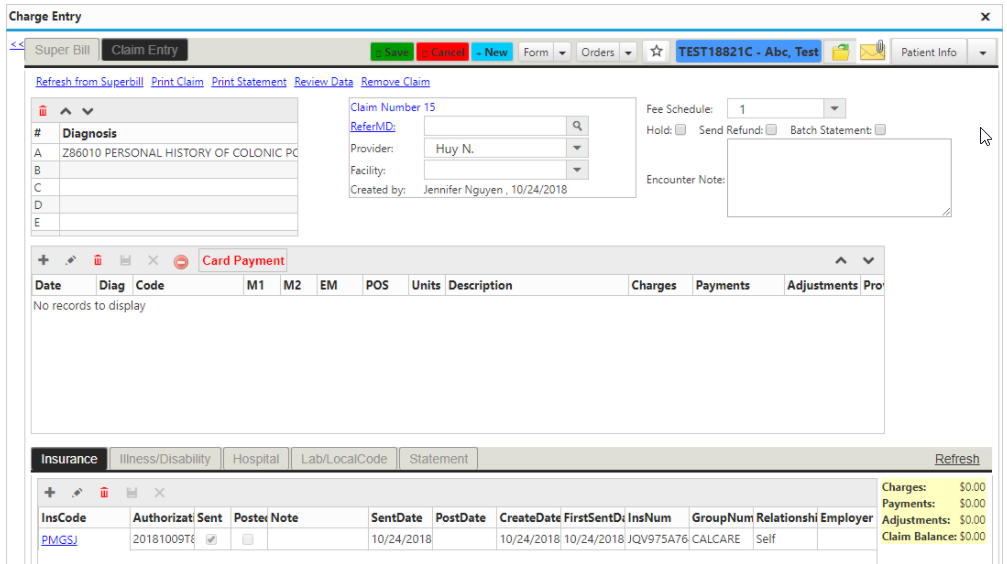 Save: saves current entries, selections and changes
Cancel: cancels current selections
Form: selects a form to be opened and filled (see configuration)
Orders:

eLab Order: opens the lab order window
Cloud eRx: opens the eRx window
Cloud Rx History: displays the patient's eRx history

Open Patient Chart: opens the patient's chart
Message Patient: creates and opens a blank message related to the patient
Patient Info: opens the patient info window
Print Claim: downloads the claim according to the users print selection
Print Statement: generates a statement for printing according to the users selections
Remove Claim: deletes the current claim 
ReferMD: selects and displays the referring MD
Provider: selects and displays the provider
Facility: selects and displays the facility
Card Payment: opens the payment window for processing payments via Bluefin