Patient Reminder
Reference Guide
Add a header to begin generating the table of contents
Schedule
Click on the Schedule tab from the left side panel  to see an overview of all physicians' schedule

Double-click a free time slot

Or right-click a free time slot > click the New Appointment option
Or click a free time slot to select it > click the New Appointment button 

Click Patient Lookup (see reference)
Enter the patient's name, date-of-birth or account number > click Search Patient > double-click the correct patient

Or click New Patient to create a new patient

Select the correct Schedule, Subject, and Reason, etc. (see configuration)
Click Save and Close
How to Send Reminder to Patient
Select existing appointment or create a new one

It is important to note that patient's must have phone number and email in patient profile in order to receive messages
Right click appointment > hover over reminder > select from the following: SMS, Voice, Email, Telehealth, Quick note via SMS
Voice
Not effective at all like SMS or email since people don't normally answer calls from unknown numbers
Send reminder: 1 day before

SMS
Send SMS Reminder: 2 days before
Message Content: send us your actual message. Include any other language if you need to. The language prompt is based on the spoken preferred within the patient profile.
We can customize and send out pre-screening questionnaire for patient to fill out and sign. The signed questionnaire will be stored in the patient chart. This setup will incur additional cost.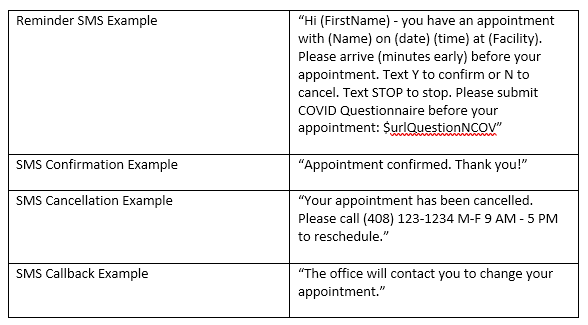 Email
Send Email Reminder: 4 days before